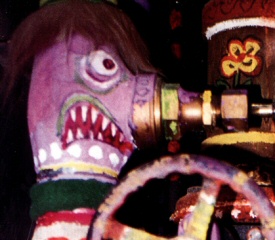 Some of you who have read about this find before…and if so, like me, you'll probably figure out where Paar is taking Letterman before they get there. But for the rest of you, I'll just shut up and let you watch it. It's quite good. This is apparently, after talking to Ken, literally the first time this stuff had been seen–at all, much less on television. The door in question had been sealed completely and not opened for twenty years or more. Check it out:
Direct link for the feedreaders.
I just checked, and yes, pages 40-41 of Jim Henson: The Works has this story and a close-up shot of the pipes. Fantastic. You can snag yourself a copy here. It's worth it.