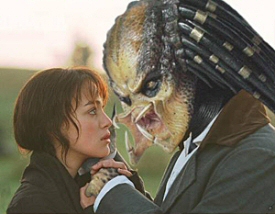 Sorry we've been away. You'll see why shortly. Busy stuff. Now we play catchup.
Well, we told you about Pride and Prejudice and Zombies at the beginning of December and the rest of the net appears to be in catchup mode. I say that because not a day goes by where somebody doesn't send the Chronicle Books entry to me. One day, my site will be cool enough for people to actually read it. Anyway, io9 does report, however, that it's already got a bidding war going and the damn thing's not even published yet. And what's more now there's Pride and Predator? When it rains, it pours, I guess.
Here's the trailer for Tokyo Zombie. It looks completely and utterly mental. I think Siege, Doc and myself will be there when it finally opens stateside.

It's one of those where you almost don't want it to be subtitled, you know?