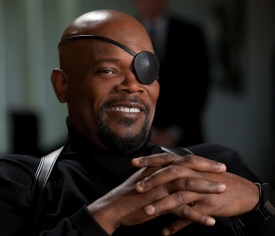 Marvel has finally gotten their head out of their ass and signed Samuel L. Jackson to play Nick Fury in their barrage of upcoming movies. Sadly, Marvel Films has started to act like Marvel Comics: let's setup this guy to be Ultimate Nick Fury, pattern the character after him, make geeks jump for joy when we cast him, and then lowball him until his involvement is in jeopardy. And this guy's a comic geek–when you're offering a comic geek too little money to be a pivotal comic movie character? That's just fucking stupid. Glad they sought therapy. Source.
That's right, it's that time again. For our American readers, the government is about to set fire to a stack of your hard-earned money. Not literally, but they might as well be. Rather than belabor the point I'll just mention that Amazon has tax software available to download to help you through this trying time of the year. And I'll say this and get off the soapbox: I think, by law, everyone in the federal government should be required to do their taxes themselves–without aid of software or an accountant. If they can't do it, then maybe they should think about tax law reform. I'm just saying.
All of that electronic crap you have cluttering up your domicile? Best Buy will take it and recycle it for $10 a piece. And for every piece, you get a $10 gift card in return. There are limitations beyond the two items a day maximum–here's the site with more info. Source.