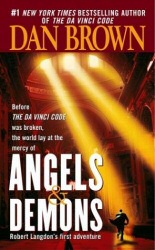 Some sites spend all their time and energy making you think everything pop culture-related is important. And if you've got nothing but time on your hands, then that's fine. Some of us, though, have lives. Not us at the site, you understand. We mean you guys out there. We take what they need an entire site to cover and do it in one post. Have some of your day back. Enjoy.
Furthering evidence for my theory that the Catholic Church and Dan Brown are in cahoots, The Catholic League has announced it's going to fight Angels and Demons, ensuring that everybody and his pet squirrel named Fred will see it. You'd think if anybody could appreciate the notion of a self-fulfilling prophecy… Source.
Amazon has Wiis back in stock, for those interested. Find Wii-ness here.
Anybody wanting Coke with real sugar, eyes forward. It's coming up on Passover. If you live in a big city, keep your eyes open and buy whatever you want because I guarantee you that stuff will be gone the next time you walk in the store. Last year I couldn't find a single bottle. Coke's price hikes and my desire to cut back on sugar finally broke my Coke addiction, but I still maintain that Coke is missing a trick. Reminder via The Consumerist.