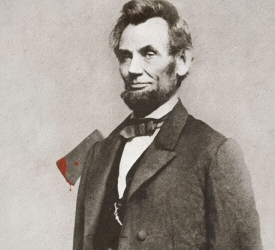 Abraham Lincoln will soon be kicking vampire ass, apparently. Seth Grahame-Smith, author of Pride and Prejudice and Zombies, will be updating Lincoln's biography with his anti-vampire fu. io9 poo-poos this idea with the air of people who are pissed they didn't think of it first, frankly. Because while this isn't the Abraham Lincoln vs. zombies book I wanted to read, I'm still behind it 100%. Especially when it turns out Booth was just the blood slave of Dracula.
This is the trailer for One-Eyed Monster, which is what happens when the adult film industry and horror collide. It's funny. But it's wrong. And it has Ron Jeremy in the cast. And whether or not it's SFW is up to you. Just wear headphones at least.
Amazon has a crapload of sci-fi titles on sale. I've picked out some choice ones…

And there's a slew of television–like Stargate, X-Files and Trek–for decent prices as well. Check it all out here.