Many sites want you to spend all day reading their regurgitated press releases. We would never dream of wasting your time like that. But like this–this is fair game.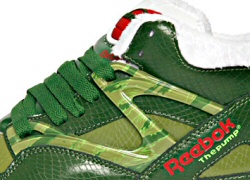 In a bit of retro madness/genius, Reebok is putting out shoes based on the movie Gremlins, which I'm sad to say, turns 25 this year. Shown is a snippet of the Gremlin shoe. There's also a Mogwai shoe. No idea where you can get a pair for yourself, though. Source.
Is it possible? Can it be? After years of lamenting over the loss of funnyman Chevy Chase—he's in a pilot for NBC that looks like it'll get picked up for series? It's called Community and I fear it will either be brilliant and last all of four episodes or be shit and last for all of four seasons. We shall see.
Death Note is going to be remade into a live-action film by Warner Brothers, or at least the first three volumes of the manga. The scribes who did Tarsem's aforementioned War of the Gods are on board. Source.