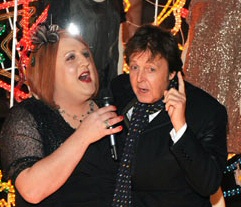 Because there's a lot of pop culture stuff out there. And you don't need an entire website to cover it minute by minute. It'll still be there when we get there. Trust us.
Peter Kay was in Los Angeles to snag an award and said he had been asked to make an American version of Britain's Got the Pop Factor and Possibly a New Celebrity Jesus Christ Soapstar Superstar Strictly on Ice. If you have seen it–and if you haven't, you should by *cough* any means necessary–then you, like me, know that it would never, ever work in America. We're still angsting over a tit from five years ago–I doubt if the wildly un-PC show would work even on cable. Kay seems not to be crazy about the idea for other reasons–he says he has no desire to "crack America"–but the show works in the UK and shouldn't be imported. It just can't translate. America's just not mature enough for that level of genius. Source. (To get a bit of Peter Kay as Geraldine McQueen, we posted her Christmas single here.)
Technically, this Day The Earth Stood Still shirt isn't something you need to know, but it's nice to know about if you saw the remake and felt dirty afterwards and feel like you need to do something to make amends.