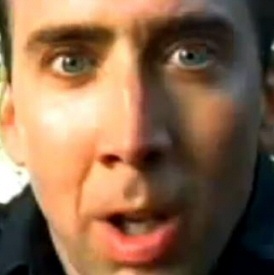 The idea of Hollywood actors going over to Japan and doing some really messed up commercials is nothing new. But I have to admit that the five commercials for pachinko (the game that happened when the Japanese cross-bred pinball and slot machines) starring Nicolas Cage seem to take things to a whole new level: a level where Salvador Dali himself would feel right at home and ask for another espresso.
[fusion_builder_container hundred_percent="yes" overflow="visible"][fusion_builder_row][fusion_builder_column type="1_1″ background_position="left top" background_color="" border_size="" border_color="" border_style="solid" spacing="yes" background_image="" background_repeat="no-repeat" padding="" margin_top="0px" margin_bottom="0px" class="" id="" animation_type="" animation_speed="0.3″ animation_direction="left" hide_on_mobile="no" center_content="no" min_height="none"]
Direct link for the feedreaders.
Found via Graham Linehan (@glinner).
Buy Stuff