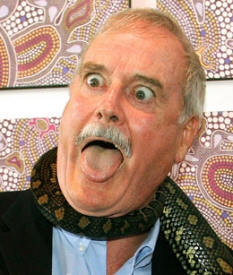 To paraphrase Lewis Carroll, we give you the stuff you need to know. When we get to the end of that, we stop. Enjoy.
It's an almost Monty Python reunion as everybody but John Cleese is on hand for when Not The Messiah (He's A Very Naughty Boy) hits Europe at last on October 23rd. It's for the 40th Anniversary of the show, and the fact that only a six-part docu is going to be aired and then hit DVD doesn't make sense–in the sense that that's all they're going to do. Blu-Ray release or…what? Because it's not like them to not try and make more money. Not that I necessarily blame them. I'm just saying. Source. Rob gave us the headsup.
Considering how much shit Tony Jaa's Ong Bak 2 went through to get made, I'm even more impressed with the trailer. Because it makes it look good.

Seriously, the dude just ran up an elephant's face to flip-kick a guy. How cool is that? Found at Twitch, where they have the French trailer in which Jaa fights a crocodile. Nice. Direct link for the feedreaders. Headsup via Unidentified Madman.