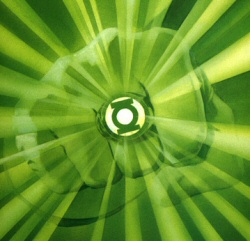 Feeling overwhelmed with pop culture news? Don't worry. It happens to us all the time and we're professionals. Don't worry. We've got this. Enjoy.
So we've got a Green Lantern. Ryan Reynolds has come on board with production starting January and a 2011 release date. This is what we call DC/Warner Brothers coming to their senses after the "brilliant" idea to have Jack Black play the role. I think Jack Black rocks as much as the next webmaster–but seriously, Ryan Reynolds is Hal Jordan. Jack Black is G'nort. You follow? Anyway, DC/WB wants an Iron Man out of this. Translation: people don't know this character as well as our Bigass Tentpole Characters (BTC) but if we do this right we can have a killer franchise. DC/WB, free advice–remember the 300 Trailer Test. Source.
So the District 9 trailer is making lots of people talk. With good reason. It looks freaking fantastic.