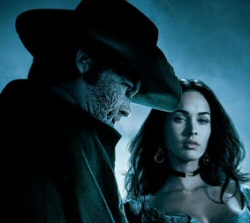 There's plenty going on in the world of pop culture. But you have a life–we don't. That's why we do this: news in quick digestible chunks so you can be about your business, armed with geek info. You're welcome.
A bunch of posters were rolled out at San Diego, including Jonah Hex (snippet shown), can be found at Yahoo Movies. Some are unimpressive, like, oh, Saw VI. But the Alice in Wonderland posters give a better look at the characters. And such.
Castlevania is back on again, with James Wan (Saw) on board to co-scribe and helm. And they're apparently discarding the previous version of the script and starting over. And what does this mean to the animated version that Uncle Warren scribed? No idea. Although if somebody wanted to send me his script, I wouldn't be sad. I'm just saying. Source.
You L.A. types, be aware that Cirque du Soleil is doing more of their 25th anniversary fun-stuff at the Grove this coming Sunday, August 2nd. All six shows from Vegas will have acts on hand to perform starting at 12:30pm and for free. Nice. "The event will be family friendly, featuring a circus play area set up for kids with face painting, jugglers and other activities. Prize giveaways, specially priced tickets for the shows in Vegas, and a chance to meet Cirque du Soleil castmembers will round out the festivities." Also nice. Seriously, if you're out that way, go. It'll be a hoot. Source.