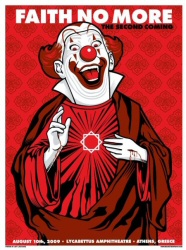 Faith No More is rampaging across Europe now. Tuffley sent me this poster for an upcoming date in Greece. Nice, yes? He also is fairly certain we will see some North American dates later on. We sure as hell better.
Dark Crystal 2, which I could have sworn we had mentioned before–but I must have dreamed it during one of my blackouts–is going into pre-production. It has a title, too: The Power of the Dark Crystal. It sounds like they're just getting funding and distribution nailed down. I can't seem to drum up a reaction to this–it just seems too remote, like Tron Legacy before the teaser trailer. After all, the originals for both came out the same year…
The Peter Berg-helmed Dune is not dead–in fact, Berg apparently revealed he wants a more action-oriented take on the film than the original adaptation or the miniseries: "

[The book] was much more muscular and adventurous, more violent and possibly even a little bit more fun… There's a more dynamic film to be made." No completed script yet, though per

this article

, and we are fifteen months later. See why I find it hard to get worked up about films in development? Best to save one's energy.