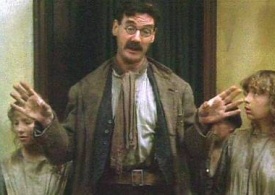 Can you imagine a world where we didn't have Monty Python? As we mentioned before in respect to a precursor of Python, Mark Evanier has stated (and I wish I could find the original link) that if Python had occurred just a bit earlier, it would have been in black and white rather than color and thus subject to the BBC's policy of wiping. It's just too mind-numbing to consider, honestly.
However, we don't have to consider it. We can instead revel–and indeed, wallow–in it. Team Python has put some of their greatest hits online, so we can use them to help celebrate this glorious day forty years ago when Python first hit the television. Back then they were just glad to have the price of a cup of tea.
Here's what I think is one of the best musical numbers to ever hit the big screen. No lie.