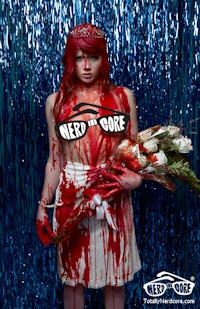 Last year, I wrote up a Ministry Quickie on the Nerdcore 2009 calendar. A pin-up calendar for nerds, there were twelve beautiful models in sci-fi environments showing us their "hardware," if you know what I mean. So I was curious what Nerdcore had in mind for 2010.
This year's theme is "horror" and they have plenty of Scream Queens on hand. Of course, these Scream Queens will have you screaming. And moaning. And grunting. You get less clothed versions of classic scenes from Psycho, Frankenstein, and Army of Darkness among others. As you can tell from this naughty interpretation of Carrie, the only thing you have to fear is your boss yelling at you for having naked women on your wall.
There is more to this calendar than naked women. I know, most of you are perfectly happy with the naked women, but just in case you're exhausted from "admiring" the models, there are other features. Along with the usual notations for holidays like Christmas and Arbor Day, you also get notices of dates important to geeks. Dates for major convention like San-Diego Comic Con and DragonCon, birthdays of important creative people in the genre, and anniversaries for the release of your favorite cult classic. For only $25.00, the Nerdcore calendar can make your 2010 much sexier.