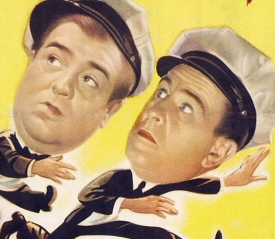 Last year we were watching this great bit from The Colgate Comedy Hour where Abbott and Costello run into The Creature From the Black Lagoon (which is fantastic). That, of course, a play off of the classic film of theirs, …Meet Frankenstein. There were other films following that, including where they meet The Mummy and also Dr. Jekyll and Mr. Hyde. The following has all three trailers, but starts with the later two films, so we're not technically repeating ourselves here.
Direct link for the feedreaders.
And two years ago we were watching the trailer for the original Blob.