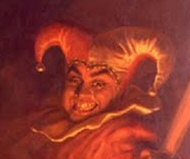 And now we reach Day 23 of 32 Days of Halloween Audio, and we go back to our friend, Mr. Poe. For this one, it's everyone's favorite party entertainer: Hop-Frog. Hope you enjoy it.
[fusion_builder_container hundred_percent="yes" overflow="visible"][fusion_builder_row][fusion_builder_column type="1_1″ background_position="left top" background_color="" border_size="" border_color="" border_style="solid" spacing="yes" background_image="" background_repeat="no-repeat" padding="" margin_top="0px" margin_bottom="0px" class="" id="" animation_type="" animation_speed="0.3″ animation_direction="left" hide_on_mobile="no" center_content="no" min_height="none"][audio:http://www.needcoffee.com/podcasts/hop-frog.mp3]
You can download it directly here. And to subscribe to the 32 Days of Halloween audio feed, here you go.
Now–it's available in iTunes. Check it out here.