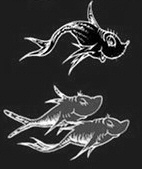 As a special bonus track for 32 Days of Halloween Audio, a new experiment in audio terror like you've never experienced it before.
[audio:http://www.needcoffee.com/podcasts/one-fish.mp3]
You can download it directly here. And to subscribe to the 32 Days of Halloween audio feed, here you go.
Now–it's available in iTunes. Check it out here.