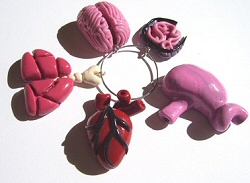 In keeping with our stated editorial stance that "if it's undead and bleeds, it leads" and also our desire (which I just invented) to become a hub of high-minded pop culture, we offer up the knowledge that zombie wine charms exist. For the uninitiated, wine charms are little trinkets that you hang off of the base of your wine glass if you're at a party so you can tell your glass of wine from Bub's glass. So these "zombie snacks" are worthwhile just because they can make the following exchange happen at your next party:
"Is this your glass?"
"No, my glass had lungs on it."
And isn't that worth every penny? Find them here.