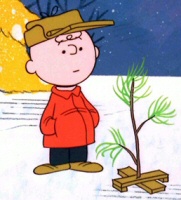 Well, as is our tradition on Christmas Day, we post the yuletide equivalent of our putting up Night of the Living Dead every single Halloween. And yes, the speech at the end gets a bit shakier as time goes by, but if you had to pick a single museum piece out of the vast array of Christmas holiday specials that have aired, we'd have to go with this one.
[fusion_builder_container hundred_percent="yes" overflow="visible"][fusion_builder_row][fusion_builder_column type="1_1″ background_position="left top" background_color="" border_size="" border_color="" border_style="solid" spacing="yes" background_image="" background_repeat="no-repeat" padding="" margin_top="0px" margin_bottom="0px" class="" id="" animation_type="" animation_speed="0.3″ animation_direction="left" hide_on_mobile="no" center_content="no" min_height="none"]
Direct link for the feedreaders.
Charlie Brown Christmas is not only available on a remastered DVD but this year it's out on Blu-Ray as well.
Hope you had a good one. Flying Spaghetti Monster bless us, everyone. The final audio installment will be with you shortly.
[/fusion_builder_column][/fusion_builder_row][/fusion_builder_container]