My Dinners With Vincent #1: Elfo's Special
By Widge - posted 01.25.10 @ 7:15 am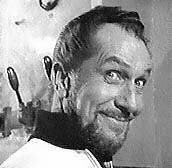 And so we're back with another new feature. All will be explained in the video, but the short of it is: how do you get invited to a dinner party hosted by Vincent Price when Mr. Price has not been with us for some years now? I came up with the next best thing. Enjoy.
P.S. The cookbook used in this series can be found used here at Amazon.
Direct link for the feedreaders.

Where to Find Stuff
Read More About:
Keep Browsing:
« Your Monday Morning Mental Sorbet: Man's Best Fiends | Win Doctor Who: The Complete Specials on DVD! »
A Mob Numbering 7
»
1.

Incredibly awesome sir, can't wait to watch the rest of them.

Comment by evrwrldBB — January 25, 2010 @ 10:42 am

2.

For a non-cook, you did pretty good!

A few suggestions from a former chef:

1) Mushrooms have a LOT of water, so you probably would have been safe to use all 3 large mushrooms because they tend to shrink when cooked.

2) Tongs are your friend! I can't tell if you have some in your spoon caddy there, but if not: get some. Be careful not to scrape non-stick coatings but they make serving slippery things like buttery spaghetti.

3) The purpose of rinsing pasta with cold water is to stop the cooking process so it doesn't get gummy while it sits. It helps to stir or toss the pasta as you rinse it to make sure it's all cooled off (otherwise the center of the pasta-mass stays very hot) and if it's going to sit for a while, drizzle it with olive oil to keep it from clumping.

Looking forward to the rest of the series!

Comment by Scraps — January 25, 2010 @ 2:02 pm

3.

I'm actually hungry after that! The band-aids and pepto were a nice touch. Bon apetit! Wait...did I just right ape tit?

Comment by Wesmess — January 25, 2010 @ 2:37 pm

4.

Scraps: Hey, thanks! And BTW, your URL is freaking awesome.

Wes: If you saw an ape tit sitting askew and fixed it then you indeed righted it. No one should judge you for this.

Comment by Widge — January 25, 2010 @ 7:26 pm

5.

The reason that chefs on the cooking shows never seem to miss the pans is that they too know how to edit video.

Personally, I don't like shrimp, but I know that butter, garlic, 'shrooms and romano over pasta tastes wonderful.

Nice first cooking show!

Comment by Louis — January 25, 2010 @ 9:43 pm

6.

Might I suggest the following drink when you find a recipe pairing for Vincent's "Tales of Terror" from '62. I hear it was a very good year.

Montresor & Fortunato

Total time: 4 minutes

Servings: 1

Note: From Damian Windsor of the Roger Room.

1 1/2 ounces amontillado sherry (such as Emilio Lustau)

3/4 ounce Grand Marnier Cordon Rouge

1/2 ounce Carpano Antica vermouth

1 each lemon and orange peel (each about 3 by 1 1/2 inches)

3 Spanish Queen olives

Pour the sherry, Grand Marnier and vermouth into a mixing glass filled with ice. Express the oils from the lemon and orange peels by twisting (discard the peels). Stir, then strain into a chilled petite cocktail glass. Garnish with the olives.

Each serving: 151 calories; 0 protein; 12 grams carbohydrates; 0 fiber; 3 grams fat; 0 saturated fat; 0 cholesterol; 9 grams sugar; 334 mg. sodium.

¡Usted envió mi lista de la tienda de comestibles a los americanos! ¡Quiero mi Twinkies! @1989

Comment by Margarita — January 27, 2010 @ 7:23 pm

7.

Margarita: Fantastic drink recipe! I might have to give that a shot! Thanks!
RSS feed for comments on this post. TrackBack URI
Line and paragraph breaks automatic, e-mail address never displayed, HTML allowed: <a href="" title=""> <abbr title=""> <acronym title=""> <b> <blockquote cite=""> <cite> <code> <del datetime=""> <em> <i> <q cite=""> <strike> <strong>