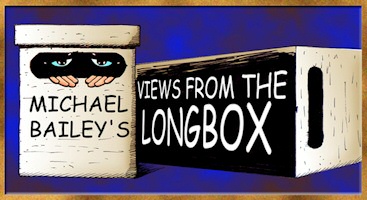 Michael Bailey is a comics podcast juggernaut. He appears on Spider-Man Crawlspace Podcast, From Crisis to Crisis: A Superman Podcast, Tales of the Justice Society of America and Back to the Bins. However, his premiere podcast, Views From The Longbox, has reached its 100th episode. In preparation for this milestone, Michael did something a little different. Starting with Episode 87, he went through each year that he collected comics starting at age 11. Now this isn't a simple restoration of "I read this comic and this comic and…" He is very open about his life and what went on in it. He brings up how he wasn't the best student, his courtship with his wife, and even the death of his mother from cancer. I really admire how people like Michael opens up to the audience. I wish I could do that, but a lot of my childhood is a blur for some reason.
[fusion_builder_container hundred_percent="yes" overflow="visible"][fusion_builder_row][fusion_builder_column type="1_1″ background_position="left top" background_color="" border_size="" border_color="" border_style="solid" spacing="yes" background_image="" background_repeat="no-repeat" padding="" margin_top="0px" margin_bottom="0px" class="" id="" animation_type="" animation_speed="0.3″ animation_direction="left" hide_on_mobile="no" center_content="no" min_height="none"]
The 100th episode is truly epic. The whole show runs over about four hours long (or the length of an average
Weekend Justice
). So Michael cut it into three parts to make it more manageable.
The first part
is with he and his semi-regular co-host
The Irredeemable Shag
. Bailey talks about his beginning on the Internet talking about comics and how he discovered podcasts and how he decided he could do one. The next two parts comprise a massive call-in show with about nineteen people. They were fans and fellow podcasters wishing Bailey well, asking question, and generally being silly. If you listen, you may recognize a couple of voices.
In part two
, Weekend Justice's long suffering engineer
Jon of The Unique Geek
calls in. And
the third part
, I call in. Yes, me. I guested on
an episode of Views From The Longbox
and I thought I would say congrats. So here's to Michael Bailey and Views From The Longbox.
[/fusion_builder_column][/fusion_builder_row][/fusion_builder_container]