My Dinners With Vincent #2: Fancy Franks, Part 1
By Widge - posted 06.20.10 @ 2:44 am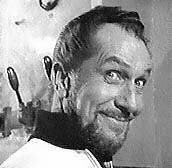 And so we're back at last with another new episode of me vs. food with the spirit of Vincent Price laughing his arse off in the afterlife somewhere. This special episode was recorded on Memorial Day and features me taking on two different hot dog recipes--at once! You may be duly afraid starting...now.
This episode quickly becomes epic, so this is part one. Stand by for part two.
P.S. The cookbook used in this series can be found used here at Amazon.
Direct link for the feedreaders.

Where to Buy Stuff (and Support the Site):
Read More About:
Keep Browsing:
« Win Don McKay on Blu-ray! | Win an "I (Heart) Zombies" T-Shirt! »
A Mob Numbering 3
»
1.

Your Minister of Fine Spirits says:

- Chop up the leftover pineapple (coarse chop) and cover with unflavoured vodka.
- Refrigerate the pineapple and vodka and let sit, at least, over night (if tightly sealed, up to 1 month (or so) in fridge or for a VERY long time in a freezer)
- Get a martini shaker and muddle some of the vodka-infused pineapple in the bottom, add 1/2 jigger of the pineapple vodka and 1/2 jigger of some plain vodka. Add ice to the shaker and then shake, very hard, until the shaker is very cold.
- Pour martini into a martini glass and enjoy!

(I have many other ideas as well - one with pineapple and rosemary and gin - hit me up if you want more recipes :) )

LeighBC

PS - Chef says you are holding your knife wrong. ;)
-

Comment by LeighBC — June 20, 2010 @ 11:28 am

2.

Jesus. We should have a separate video series called "My After Dinner Drinks With Leigh."

And if that's all the Chef had to scold me on then I am rocking with much bass.

Comment by Widge — June 21, 2010 @ 12:33 am

3.

Just getting a chance to catch up on your kitchen adventures!

Pineapple juice can usually be found in non-vat sizes by looking for the smaller 6-packs of juice in the juice aisle. Public likes to put them on the lower shelves off to one side, but they do exist!
RSS feed for comments on this post. TrackBack URI
Line and paragraph breaks automatic, e-mail address never displayed, HTML allowed: <a href="" title=""> <abbr title=""> <acronym title=""> <b> <blockquote cite=""> <cite> <code> <del datetime=""> <em> <i> <q cite=""> <strike> <strong>