My Dinners With Vincent #2: Fancy Franks, Part 2
By Widge - posted 06.23.10 @ 5:29 am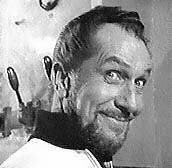 And so we're back at last with the next chapter in the latest episode of me vs. food with the spirit of Vincent Price wondering why the hell I don't speed it up and get the hot dogs done already. This special episode was recorded on Memorial Day and features me taking on two different hot dog recipes--at once! And things get intense.
You Can Find Part One Here. And stand by for part three.
P.S. The cookbook used in this series can be found used here at Amazon.
Direct link for the feedreaders.

Where to Buy Stuff (and Support the Site):
Read More About:
Keep Browsing:
« Win Caught in the Crossfire on DVD! | Win Shrek: Forever After for Xbox 360! »
A Mob Numbering 4
»
1.

This is both excellent and edifying.

Comment by GuildSteersman — June 23, 2010 @ 9:35 am

2.

I cook one recipe a week from Vincent's treasury. Some friendly advise; stay away from the jellied bits and bobs. Aspic is awful.

Comment by MuteWitness — June 27, 2010 @ 5:51 pm

3.

You are so likeable and can think of things to say and entertain on your feet in these videos and the wayhomers. Have you thought about combining the two and talking about horror movies while cooking a vincent meal? You could pitch it to Spike TV or something in time for Halloween?

Comment by Dan — June 28, 2010 @ 5:25 am

4.

Hmm. HMMMM, I say.
RSS feed for comments on this post. TrackBack URI
Line and paragraph breaks automatic, e-mail address never displayed, HTML allowed: <a href="" title=""> <abbr title=""> <acronym title=""> <b> <blockquote cite=""> <cite> <code> <del datetime=""> <em> <i> <q cite=""> <strike> <strong>