Our Winners are Red Hot!
Posted 07.08.10 @ 6:12 pm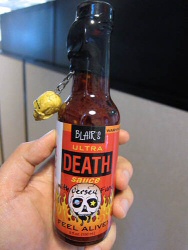 Judas Priest: British Steel 30th Anniversary goes to Rob Hammond of North Carolina
Edge of Darkness Blu-Ray will be edging towards Jeff Knott of Missouri, Elizabeth Camarena of Arizona, and John Sutton of Colorado
Patrick Metcalfe of Georgia can add Hoarders Season 1 to his vast collection
Catherine Coy of Missouri can stop hunting for Hunter Season 2
I Know What I Saw will soon be seen by Jeff Witmer of Iowa
Jimmy Downs of California wins According to Jim Season 2
Cynthia Gaddis of Pennsylvania can go catch the bad guys with 21 Jump Street Season 2
Congrats to all the winners. Don't see your name up there? Don't panic. There are plenty of chances to win. Find our contests here. And hey: subscribe to our contest feed so you don't miss a single chance to enter--the day you miss entering might have been Your Day!