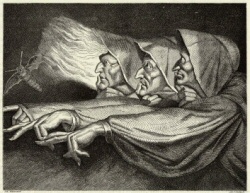 For tonight, something a little different. It's The Scottish Play and some Shakespeare. Hope you enjoy it.
[audio:http://www.podtrac.com/pts/redirect.mp3/www.needcoffee.com/podcasts/three-witches.mp3]
Find it directly here. Or subscribe to the feed to get all the 32 Days audio. If you're already subscribed to our Needcoffee.com general podcast feed, you already get them, so you're good.