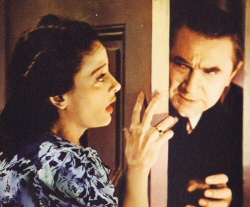 After some madness with previous films like
Mystery of the Wax Museum
,
Billy the Kid vs. Dracula
and our first Movie Night #18 pick,
Revolt of the Zombies
, we switch now to 1941 and
Invisible Ghost
. Who is committing murders on the grounds of Dr. Kessler's estate? Is it Sarge? Rosemary, the telephone operator? Or Dr. Kessler himself, played by Bela Lugosi? Could be!
[fusion_builder_container hundred_percent="yes" overflow="visible"][fusion_builder_row][fusion_builder_column type="1_1″ background_position="left top" background_color="" border_size="" border_color="" border_style="solid" spacing="yes" background_image="" background_repeat="no-repeat" padding="" margin_top="0px" margin_bottom="0px" class="" id="" animation_type="" animation_speed="0.3″ animation_direction="left" hide_on_mobile="no" center_content="no" min_height="none"]
It's available on DVD from Amazon.
[/fusion_builder_column][/fusion_builder_row][/fusion_builder_container]