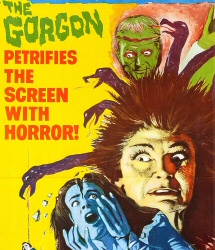 It's still Peter Cushing Day here at 32 Days of Halloween, so tonight we venture to 1964 for Cushing and Christopher Lee in The Gorgon. Also in the film is Patrick Troughton, who of course would later go on to play The Doctor.
Two things I find disturbing about this film. One is Christopher Lee's hair and mustache. Two is the fact that they put "She had a face only a mummy could love" as one of the taglines on the poster. Seriously? I mean, don't get me wrong, I know this is Hammer, but…seriously?
Last year we were checking out fu vampire territory with Cushing in The Legend of the 7 Golden Vampires! Before it was officially Cushing Day we were checking out Bucket of Blood in 2008 and then The Satanic Rites of Dracula in 2007. So we only took a year off from Cushing.