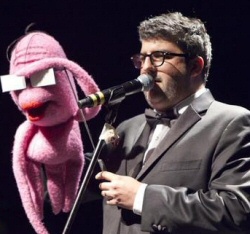 Each week we try to start you off with something that will bend your brain a bit and either wake you up so you can face the work week head on–or (and perhaps more humanely) freak your brain out so that by the time we get done with you the work week will seem like a cakewalk. This week, however, we want to do something a little different.
Friend of Need Coffee Dana Snyder celebrated his birthday over the weekend. You have to understand: Dana does not grok modern pop culture. He doesn't have time for it. Once you get past the 1940s, Dana hasn't heard of anything–unless it's some crazed novelty record. So as we were thinking about what we, as a site, could get him. What do you get the man who has everything? The answer became clear: we could plan out a variety show that Dana could host for some network smart enough to run it. And what better show than one in which Dana introduces insane covers of popular songs, but in a style he can at least somewhat relate to? The world is entertained, Dana is introduced to modern music without being scared away, and we collect a portion of the profits. The idea is genius. The idea is The Dana Snyder Music Hour.
So first things first…we give you a little Global Kryner.