Word-A-Week Vocabulary Vlog #21: Obloquy
By Aaron - posted 01.25.11 @ 8:23 pm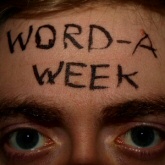 There's nothing worse than letting a perfect moment pass you by. That feeling of your brain finally kicking into gear hours later and informing you that "should have said" something or the other. As opposed to what you actually said, which was probably lame. One man has been there--and he wants to spare you the same grief. That man...is Aaron Poole. Accept no substitutes! It's a word you can use! In conversation! When you write things down! Even on Twitter and Facebook! And the best part is: this word is free for you to use and share! It is guaranteed DRM-free.
We hope you will join Aaron as he gives out a free second-go-round on the E-Ticket Attraction...that is Language.

Direct link for the feedreaders. Downloadable iPod version here.
Want to subscribe to all our video podcasts in one fell swoop? Here's your link. What to subscribe to Aaron's Word-a-Week solo? Here's that feed link or you can find iTunes here. For the previous episode, click here.
Special thanks to PhantomV48 for the closing animation.
Read More About:
Keep Browsing:
« Win a CTI Records 40th Anniversary Prize Pack! | Win Bad Boys on Blu-Ray! »
A Mob Numbering 4
»
1.

First one of these I didn't know. THANKS AARON!

Comment by Wolven — January 25, 2011 @ 8:56 pm

2.

You seriously knew loquacious and stripling already?
You are one verbose motherfucker.

Comment by Aaron — January 26, 2011 @ 5:39 am

3.

Same here, chief. This is the first one you got me on. Well played.

Comment by Widge — January 26, 2011 @ 1:47 pm

4.

I am, in fact, prolix by nature.
RSS feed for comments on this post. TrackBack URI
Line and paragraph breaks automatic, e-mail address never displayed, HTML allowed: <a href="" title=""> <abbr title=""> <acronym title=""> <b> <blockquote cite=""> <cite> <code> <del datetime=""> <em> <i> <q cite=""> <strike> <strong>