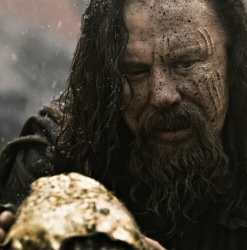 There are some people who need every little pop culture news tidbit the moment it comes off the presses. They like reading press releases converted into 250 words of article. This feature is not for them. This feature is for people who need to know the important bits and don't have time for the extraneous info. If that's you: enjoy.
Immortals is what War of the Gods is called now. Tarsem is directing Mickey Rourke as a mad Hyperion trying to kill mankind. Seriously. What else do you need to know? If you don't know what I'm talking about, go back and watch The Cell and The Fall and tell yourself that that man is going to bring you GODS THAT FIGHT.
American Horror Story is the show that FX has ordered a pilot of from the people who brought you Glee. You know what would make the show a slam-dunk for me? Get Kings of Leon to do the theme. Source.
Here's one way to do it: create a video game trailer that's so awesome that you sell the film rights on the strength of it before the game even hits. That's Dead Island, of course–although the rights were bought before the trailer, even. Bought in 2009. Just damn. Anyway, the trailer is what everybody has been sending me, trying to get me to buy a console. Bastards. Anyway, fine, here's the trailer. This is more of a horror movie than, well, most horror movies. Watch it after the break.

Direct link for the feedreaders.

Home Video Releases

Click the type of media in the description or the title to pre-order/order your copy from Amazon.