Our Winners are Jumping for Joy!
By Cosette - posted 03.13.11 @ 10:47 pm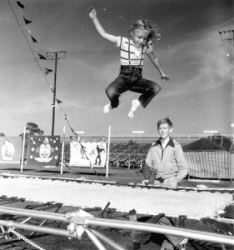 Duke Ellington will be serenading Peter Cullman of Colorado, Dora Meredith of Michigan, and Rory Hill of Iowa
Aris Rychener of Michigan can wear The Nightmare on Sesame Street T-Shirt to bed now
Fasten your seatbelts--All About Eve on Blu-ray is going to Darlene Pope of Nebraska and Erica Lattimore of British Columbia
Douglas Crowley of New Jersey, Vern Slaton Jr. of Iowa, and Charles Pellin of Wisconsin have won Lincoln and Douglass
SNL: Belushi & Farley sets will be making Jeffrey Martin of North Carolina, Lawrence Lampron of Michigan, and Danielle Day of Washington laugh
Barbara Durham of Connecticut can kick back with a box of Kleenex and the Lifetime Romance set
Virus X will be observed by Kara Kelleher of New York, Gary Green of Florida, and Sheila Cohen of Maryland
Congrats to all the winners. Don't see your name up there? Don't panic. There are plenty of chances to win. Just a reminder--you can enter up to once a day (but no more than once a day, please) per household. Find our contests here. Our become a fan of our contests on Facebook. And hey: subscribe to our contest feed so you don't miss a single chance to enter -- the day you miss entering might have been Your Day!
Read More About: