Wayhomer Review #63: Raiders of the Lost Ark
By Widge - posted 05.17.11 @ 11:53 pm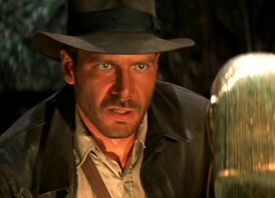 Episode #63 for Raiders of the Lost Ark, in which our protagonist lucks out at a legitimate chance to talk about one of his favorite adventure films, has high praise a pre-doldrums Harrison Ford and imagines what would happen if they tried to make this film today.

Direct link for the feedreaders. Downloadable iPod version here.
Want to subscribe to our Wayhomers as a video podcast? Here's your link.
Want to subscribe to all our video podcasts in one fell swoop? Here's your link.
Special thanks to PhantomV48 for the closing animation.
Where to Find Stuff
Read More About:
Keep Browsing:
« Win The Snowman as an Unabridged Audiobook! | Win Fertile Ground on DVD! »
A Mob Numbering 6
»
1.

*pushes glasses up all nerd like*
The Well of Lost Souls should have had Ammut instead of Anubis!
*runs away giggling*

Comment by Iruka — May 18, 2011 @ 6:27 am

2.

"Quiet, you!"

Comment by Widge — May 18, 2011 @ 7:11 am

3.

This brings back memories. I should have been watching that movie on the big screen during my time in Cardiff, Wales. I joined the film society there (naturally) and that meant we could go to press screenings (I was at more press screenings at 10am, than in classes at 11am, percentage wise). Yet Raiders would have been a special screening just for the society. The cinema or the guys who ran the society did a mistake though and we watched it on a TV screen in a pub. And then... oh well, this is a long story. That movie is pure magic.

Comment by Dom — May 18, 2011 @ 11:18 am

4.

Did you either recreate the drinking game and/or the bar fight? If so, you get DOUBLE POINTS.

Comment by Widge — May 18, 2011 @ 4:32 pm

5.

Well. We. Did a movie quiz. And I answered the questions about Raiders before we watched it. Quoted "Asps. Very dangerous. You go first" So you COULD say, I wiped the floor with my opponents. Kinda.

Comment by Dom — May 18, 2011 @ 5:40 pm

6.

Excellent, my friend. Excellent.
RSS feed for comments on this post. TrackBack URI
Line and paragraph breaks automatic, e-mail address never displayed, HTML allowed: <a href="" title=""> <abbr title=""> <acronym title=""> <b> <blockquote cite=""> <cite> <code> <del datetime=""> <em> <i> <q cite=""> <strike> <strong>