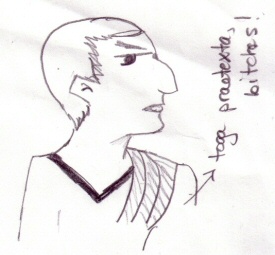 So there came a time in which Dindrane, our resident classicist and Knower of Latin, was given a singular challenge. This challenge was to take a song and translate the lyrics into Latin. The song that she was eventually tasked with was "GDMFSOB" by DJ Shadow. Specifically the UNKLE remix which features the rapping of Roots Manuva. (Embedded song below the jump.) She went away into her linguistic laboratory and–with the help of Doc Ezra and friends of Need Coffee Kevyspice and Double P–was able to come back in time with a complete translation.
This took a great deal of effort on their part and Din, perfectionist that she is, was occasionally ripping her hair our and hiring people to come by her house so she could, in turn, rip their hair out as well. She shared with me a hilarious email where she was imploring someone for help with the term "hippy high heels" and what a Latin equivalent would be.
Regardless, that dramatic reading of the lyrics–with Dindrane handling the Latin and Aaron Poole handling the English–appeared in Episode 102 of Your Weekend Justice. As promised, we have scans of the original documents that Din used to create this masterwork of translation. We urge anyone who loves languages and likes a good laugh to check this out. It could also be used as a teaching tool, we're sure–although bear in mind that the words are definitely NSFW. So…enjoy.
(Please note: these lyrics are reprinted for amusement purposes only and of course we don't own them. If anyone wants to cover the song in Latin, though, just ask Din nicely for permission. It's only fair, right?)