Win Breakfast at Tiffany's on Blu-Ray!
Posted 09.17.11 @ 4:24 am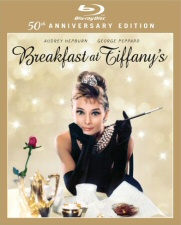 It's the 50th anniversary edition of Breakfast at Tiffany's, hitting Blu-Ray from Paramount. Here's what they have to say for themselves:
The exquisite
Audrey Hepburn
stars as the free-spirited Holly Golightly in the unforgettable masterpiece BREAKFAST AT TIFFANY'S, celebrating its 50th anniversary this year and debuting on Blu-ray September 20, 2011 from Paramount Home Entertainment. Based on Truman Capote's best-selling novella, BREAKFAST AT TIFFANY'S captured the imagination of audiences everywhere and made an indelible impact on movies, fashion and society at large. In director Blake Edwards' timeless classic, Hepburn's intoxicating New York party girl embarks on a wildly entertaining, comedic adventure to find love in the big city.
George Peppard is the struggling and "sponsored" young writer who finds himself swept into Holly's dizzying, delightfully unstructured lifestyle as she determinedly scours Manhattan for a suitable millionaire to marry. The film also stars Patricia Neal, Buddy Ebsen, Martin Balsam and Mickey Rooney and earned Oscars® for Best Song ("Moon River") and Best Score.
We've got two copies of the Blu-Ray to give away. Want to win one? Gazanga. Here's how that happens: you enter using the form below. Remember you can enter once a day. If we draw your name when the contest ends, you snag it! Good luck!
Update: Due to a database issue, the contest closed prematurely. To give everyone who was going to enter a chance to catch up, I'm extending the contest for one more day. Sorry for any confusion. Thanks to Wayne for pointing it out.

Contest is closed! Thanks for playing.
But be of good cheer! For the latest in contestage, check out the site here.
Or if you want to never miss another contest, subscribe to our RSS feed!
Where to Find Stuff
Keep Browsing:
« Wayhomer Review #83: Drive (2011) | Catherine - Game Review »
A Mob Numbering 5
»
1.

Breakfast at Tiffanys- I would love to win this :)

Comment by Audrey Morgan — October 17, 2011 @ 10:20 am

2.

Thank-You!!

Comment by Nick Conley — October 17, 2011 @ 10:56 am

3.

crossing my fingers

Comment by misty — October 17, 2011 @ 12:46 pm

4.

think you closed this one early...

google cache of the page shows:

5) Contest ends at 11:59PM Eastern Time, on October 17, 2011.

Comment by Wayne — October 17, 2011 @ 3:39 pm

5.

Wayne: You're right...there was a database screwup. I've reopened it and extended the deadline to 10/18 at 11:59PM to compensate for the lost time. Thanks for the headsup.
RSS feed for comments on this post. TrackBack URI
Line and paragraph breaks automatic, e-mail address never displayed, HTML allowed: <a href="" title=""> <abbr title=""> <acronym title=""> <b> <blockquote cite=""> <cite> <code> <del datetime=""> <em> <i> <q cite=""> <strike> <strong>