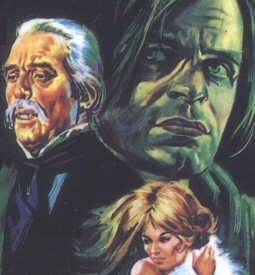 Tonight has been a night for Dracula. And you would be amazed (or maybe not) as to how many different film versions there are. We've covered a lot of them but there's still more: case in point, Jess Franco's Count Dracula from 1970.
Not a Hammer film and yet you've got Christopher Lee as Dracula. So it's, I guess you might say, the Never Say Never Again of Dracula flicks.
The cast beyond Sir Christopher is impressive: Klaus Kinski as Renfield and Herbert Lom as Van Helsing. And the film on the whole is more faithful to the novel–notice this version of Dracula starts off old and gets younger, as opposed to the sauve-from-the-get-go Mr. Lugosi. Definitely worth a viewing. Enjoy!