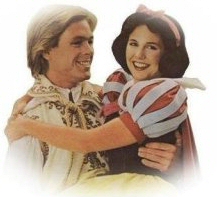 Long before The Lion King or Beauty and the Beast hit Broadway, Disney had taken to the stage with adaptations of their stuff. And I don't just mean the versions you see in the theme parks. They're cute, but they lack…well, bite. However, back in 1979 they brought a stage production of Snow White and the Seven Dwarfs to Radio City Music Hall. It helped revitalize the Music Hall and played 106 performances before it closed for good. It was filmed and shown and TV and to my knowledge has never been officially released on DVD and isn't shown on TV any more. I have no bloody notion why. Thespia told me that we needed to post the transformation sequence from the Queen into the Hag from the show. But before we get into that, two things before you watch it.
1. This is not The Lion King nor was meant to be. This is children's theatre at its purest. Everything is overdone and big and no one gives a damn that the dwarfs all have masks that make them sound muffled because of mic placement. No one cares that it's at times cheeseball to the extreme. No one cares and neither should you.
2. The part you are about to see is, in my estimation, would be one of the most fun parts to play in all of children's theatre history. Elsewhere in videos you can hear the kids yelling warnings to Snow White not to eat the apple. When kids start interacting with what's happening on stage–that is the awesome. Watch it first, then we'll tell you the trick.