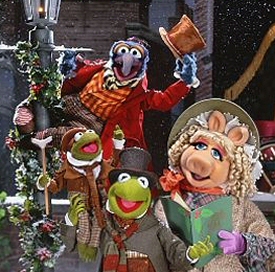 I know, I know, it's traumatic for everybody. But as the intro says, "Buck little camper." We're here with our Fifth Year of 13 Days of Xmas to help you slide into the mayhem of the yuletide season. Whether you're waiting for your vacation to begin or waiting for it to end so you can get away from your family…or perhaps you just need to sneak away and get a laugh while trying to make sense of the nonsensical wish lists that you've had thrust upon you…we're here.
As is tradition with 13 Days, we open with Muppets. First up, we have dancer Rudolf Nureyev appearing with Miss Piggy in a Muppet Show production of "Baby, It's Cold Outside." If not full-on Christmas, it's certainly seasonal enough.
And then, we have the Muppets Christmas Carol Blooper Reel. Ignore the Spanish subtitles. Unless you speak Spanish. In that case, enjoy the Spanish subtitles.