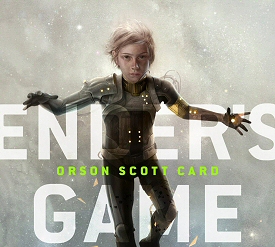 Trying to get you pop culture news at least once a week, because doing it more often than that would be excessive and time consuming for everyone involved. One post catches you up to speed on the important bits and you can then breeze through the rest of your day enlightened. Huzzah.
I'm now willing to admit that Ender's Game is probably happening. As I may have mentioned before, the last time it was supposed to kick off, it was Haley Joel Osment as Ender. Now the previously might-be Harrison Ford is definitely on board to play Hyram Graff. Hailee Steinfeld is also locked to play Petra while Abigail Breslin is on tap to play Valentine. Source: Variety.
The Bugle, the hilarious satirical podcast hosted by John Oliver and Andy Zaltzman that I recently recommended, has gotten evicted by current host The Times Online (I notice the link on their HelloBuglers Twitter page has been redirected to the Times' front page as well). They report that it will have a new home somewhere in 2012, so that's good news out of the ashes and madness.
In our trailer catchup, missed this new trailer for The Grey. Watch this:

Direct link for the feedreaders.

Twitter has infected our trailers. That's all I will say on that subject.
In the best news you will hear all day, not only is there an off-Broadway comedy about "a possessed Christian-ministry puppet" entitled Hand to God, but it's apparently so popular they're bringing it back to the Ensemble Studio Theatre in February. The fact that this exists in any form fills me with joy. Source.
HBO has shows hitting DVD and Blu-Ray you want. In the case of Boardwalk Empire, considering the interactive BD-only material, you'll want it on Blu-Ray. That's hitting January 10th and can be pre-ordered here. No, I won't give you the DVD link because it says "Full Screen Edition" on Amazon. Seriously? Anyway, then Game of Thrones hits March 6th. DVD links and Blu-Ray links to pre-order are right there.
The complete series of Logan's Run is hitting DVD April 10th from Warner Home Video in a three-disc set. It's available for pre-order from Amazon.
Lovelace, the biopic about porn star Linda Lovelace, has an amazing cast. Amanda Seyfried will be playing the title role while James Franco will have a cameo playing Hefner. Also in the cast are Hank Azaria, Wes Bentley, Chris Noth, Robert Patrick, Peter Sarsgaard, Sharon Stone and Juno Temple. Production kicked off mid-month and it's to hit cinemas next year. Source: Variety.
Rob sent along this vid from Doctor Who Confidential where David Tennant interviews Steven Moffat about the history of Doctor Who as well as what it's like to write for it.

Direct link for the feedreaders.

Ignore anything about the iPlayer. Unless you have it in your country. Because we don't. And I'm not bitter about it.
The Ultimate Edition of Transformers: Dark of the Moon will have Blu-Ray 3D, Blu-Ray and DVD with UltraViolet and a digital copy. That's coming out January 31st alongside a seven-disc set of all the movies that will be available for a limited time, with a plaque of movie images signed by Michael Bay. Oddly, they don't appear to be available for pre-order yet. Stay tuned.
Did you miss a bit of Walking Dead? AMC is showing all thirteen episodes we've had thus far starting at 11am on New Year's Eve. Nice.