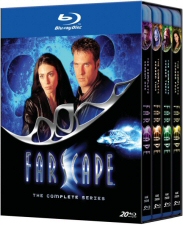 Pop culture can sometimes wait. However, a really great deal sometimes cannot. Thus, we interrupt this lack of interruption with the following headsup: the Amazon deal of the day is the complete series of Farscape. For today only–or until they run out–the Blu-Ray complete series is $68.99, 65% off the regular list price of $199.95. And the DVD complete series is $44.99, 70% off the regular list price of $149.95. And, of course, if you do take advantage of this using our links, we get kickbacks which helps pay for the site. So thanks for that.
In other news…
George Lucas claims to be retiring in the wake of continued outcry against his tampering with Star Wars and the reaction of studios to his upcoming Red Tails. He says in the article, "I'm saying: 'Fine. But my movie, with my name on it, that says I did it, needs to be the way I want it.'" Well, yes, George, but that doesn't mean people have to like it. And–here's why I think you're just smarting from Red Tails more than anything else (we're two days out from it opening and there's one review on Rotten Tomatoes?)–you're going to make money no matter what happens. People are going to go see Phantom Menace in 3D and even if they bitch the whole time they're still giving you money. George, you are bulletproof. You'll be back in the saddle before you know it. Episode VII. Mark my words. It's still happening.
Emperor officially has our attention. It's apparently, among other things, dealing with the period post-Japanese surrender in WWII, when MacArthur was basically running the place. And they're trying to figure out what to do with Hirohito. And playing MacArthur? Tommy Lee Jones. Peter Webber (Girl With a Pearl Earring) is helming. Faaascinating. Source: Variety.
The movie is called Flying Swords of Dragon Gate. It's Tsui Hark directing Jet Li in an IMAX 3D wuxia fu film where the head 3D burrito for Avatar is overseeing the 3D. Did you just say "holy shit"? You should have. Trailer.

Direct link for the feedreaders.

Don't get too excited yet. No U.S. release date announced. Damn.
Home Video Announcements