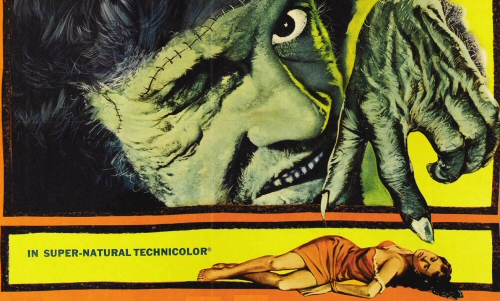 Let me address this poster art snippet first. The tagline on many of the posters was "We dare you to see it! We double-dare you to forget it!" I'm sort of surprised they didn't then say "We triple-dog-dare you to visit the concession stand!" Anyway.
It's Frankenstein Night here at 32 Days of Halloween, and we look to our friends at Hammer and their series of films starring Peter Cushing. In case you want to watch them in order, first up was The Curse of Frankenstein, then this film, then The Evil of Frankenstein, Frankenstein Created Woman (which we haven't posted yet), Frankenstein Must Be Destroyed, then lastly Frankenstein and the Monster From Hell (which also isn't up yet).
Whew. Anyway, this time around we have Dr. Frankenstein escaping the death destined for him in the previous film, then moving to a new town and continuing his experiments. As you do. Enjoy.