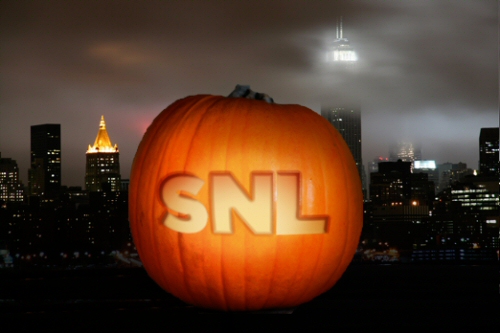 I think ever since we started 32 Days of Halloween--this is our sixth year, after all--there's been one Saturday Night Live bit we wanted to share. It's the Halloween Land Shark skit. You can imagine how it goes: a promise of a trick or treater and then eventually...carnage. That's our memory of it, anyway. It's been years since we've seen it. But NBC is very stingy with things online. The only snippet we've been able to find is this "medley" of SNL bits from its history. This is nice, yeah, but it just whets our appetite for the full versions of the really excellent bits they show...
Hell, if I knew which season it was in, I'd point you to it if it was available. But not knowing that, Saturday Night Live stuff in general is available from Amazon
.
The one bit that everybody can't stop talking about, though? This one. And admittedly, it does have a certain sick charm...
Previously on Day 14, we've played around with a lot of TV stuff. Last year it was a 1955 version of Dr. Jekyll and Mr. Hyde. Before that it was the Fat Albert Halloween Special, Bugs Bunny in "Broom Stick Bunny," and the must-see Paul Lynde Halloween Special. And before we had the television theme, we went with the trailer for the original Frankenstein for Year One.