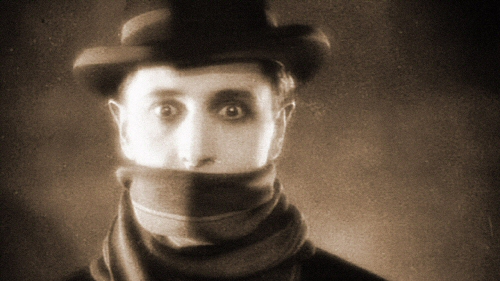 So it's silent movie night here at 32 Days of Halloween. And, hey, we're at the halfway mark right now. Holy crap. Time flies when you're trying to horrify yourself. Anyway, we've looked at a number of silent films over the five-plus years that we've been doing this. Now it's time to go to the early days of one of the masters: it's Alfred Hitchcock's third film, the 1927 silent flick The Lodger: A Story of the London Fog.
You might think the plot is familiar to you: a serial killer stalks the streets of London while a new and eccentric tenant is raising eyebrows in a family's home. Could they be the same person? The original novel by Marie Belloc Lowndes has been adapted six ways from Sunday…it's been a feature film five times, this being the first. Most recently it was adapted in 2009 with Simon Baker and Alfred Molina. I'm most familiar with it as a radio play: it's been done on the air at least three times, with Vincent Price starring once and Peter Lorre once.
I found a version of the film with a score behind it, as I find I enjoy silent films best when they're not, you know, completely silent. Enjoy.