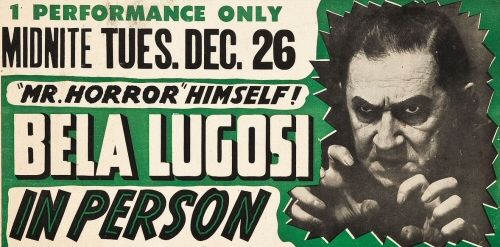 You Asked For It was a show that aired during the 1950s. The setup is pretty much as you see here--somebody would write in using postcards (kids, ask your parents) to see something. Art Baker, the host, would oblige. (We previously posted a bit from Lon Chaney Jr. on the show.) Here, thanks to Skippy Peanut Butter, a woman asks to see Bela Lugosi. And she gets to. A commenter on the YouTube video mentions that this gives us a sample of what his touring horror magic show might have been like...
Touring Horror Magic Show? A write-up of Lugosi's later days and the show--which didn't fare well, the article reports--can be found here. I honestly didn't know he had played Jonathan Brewster in productions of Arsenic and Old Lace--how awesome must it have been to see Lugosi live on stage? Just damn. Anyway, because Miss Frasier asked for it...
This episode's never been released to DVD as near as I can tell.
Previously beginning Day 18, we had the trailer for Lugosi and Karloff in Black Friday, and before that The Curse of the Living Corpse, Terror in the Wax Museum, The Uninvited and The Zombie Diaries.