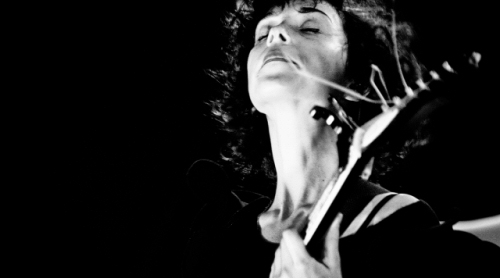 Late again, late again, jiggity jig. I need better drugs. More music picks for your Tuesday, co-curated by Rob & Widge. If you like what you hear, use the links provided to snag it for yourself from Amazon. Doing so through us gives us kickbacks, and those help pay for stuff like more bandwidth. And also so we can buy more music.
Widge: This was one of my favorite singles of last year--and yes, it's off the St. Vincent album, Strange Mercy, which was a 2011 release. But this was released as a single in 2012, so hey, it counts. The B-side of that digital single was an acoustic version, which this 2011 live performance from Good Records out of Dallas actually improves upon. (Amazon: CD/MP3; MP3; Vinyl/MP3.)

---
Rob: Another wonderful album from Richard Thompson. Deep and melodic.
Rob's talking about Electric, out just this week. I've snagged a live performance of "Good Things Happen to Bad People" from last year. Sound's surprisingly good for a vid like this. (Amazon: CD; Deluxe CD; MP3; Vinyl.)
---
Widge: Another favorite album of mine from last year--and one I found very late in the game. Matt Ulery is a bassist and composer out of Chicago and he allied himself with a slew of musicians to record the album By a Little Light. It might turn out to be my favorite jazz album of the year. Here's the music video for "Dark Harvest." Oh, and avoid the MP3 bundle...it appears to be missing five songs that are CD-only. (Amazon: CD.)
---
Rob: "A Danish american three piece from LA that fine tunes their sound and dishes out spacy shoegaze sounds, mixed with ethereal wonderfulness."
He's describing Gliss. And that's about the long and short of it. Here's the music video for "Weight of Love" from their new album, Langsdom Dans. (Amazon: CD; MP3; Vinyl.)
---
Rob: "A bit of sonic shift for the duo but very, very nice stuff. Catchy as hell."
Rob is describing Heartthrob, the new album from Tegan & Sara. Here's "How Come You Don't Want Me" from the album. And BTW, the MP3 bundle is just $5 as I write this. So. (Amazon: CD; MP3; Vinyl/CD.)
---
Widge: Last October (yes, I'm perpetual catch-up mode) saw Just a Band from Kenya releasing their new album, Sorry for the Delay. They tag this with so many different genres it sort of defies description. Regardless, I'm digging these guys' stuff a great deal. This is "Till We Try." (Amazon: MP3.)