With the 50th Anniversary of Doctor Who approaching in November, Need Coffee Dot Com celebrates the legacy of the show by examining all Eleven Doctors. Every Doctor will be profiled as part of the series.
At the end of each overview is a recommended list of commercially available DVD titles from that particular Doctor. For the sake of simplicity only complete stories will be considered.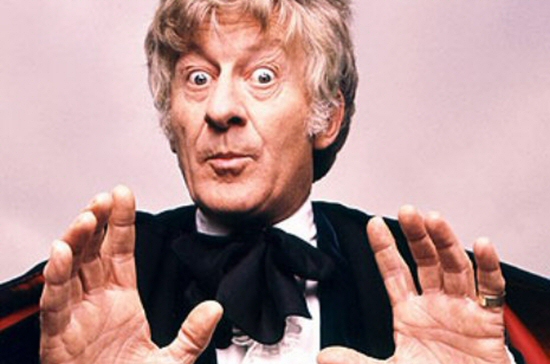 JON PERTWEE
Jon Pertwee was nicknamed "The Tall Light Bulb" by Tom Baker. In a weird way it is perfect since as a performer everything about the actor who played the Third Doctor was bright and beaming. Pertwee, a veteran actor and comedian who dabbled equally in radio, theatre, film and television, who never entered a room quietly–was larger then life. The legend of Pertwee only grew larger when it was revealed that he was involved in high-level espionage in World War II.
He was born into a famous family. His father Roland was a well-known writer and artist. His mother, Avice, whom Jon would later grow estranged from, was also a performer.