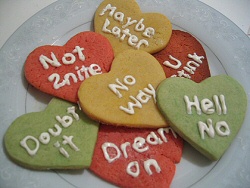 This podcast generally covers music and other transgressions. This episode is hosting by Dr. Rob Levy with Prof. J.M. Tuffley & Widgett Walls in attendance.
This episode's central topic is Valentine's Day and the music that can accompany it, or as the title says: songs of love, hate and indifference. To get there, we also discuss new releases, Glee vs. Kings of Leon, we discuss some artists we've recently lost, the fate of KUSF and possibly all of college radio, and Flavor Flav opens a chicken emporium.
[fusion_builder_container hundred_percent="yes" overflow="visible"][fusion_builder_row][fusion_builder_column type="1_1″ background_position="left top" background_color="" border_size="" border_color="" border_style="solid" spacing="yes" background_image="" background_repeat="no-repeat" padding="" margin_top="0px" margin_bottom="0px" class="" id="" animation_type="" animation_speed="0.3″ animation_direction="left" hide_on_mobile="no" center_content="no" min_height="none"][audio:http://www.podtrac.com/pts/redirect.mp3/www.needcoffee.com/podcasts/soundboard17.mp3]
Special thanks to Hyperbubble for our lead-in music. Show them love and buy their stuff.
Headsup: You can find the music we discuss at our Amazon Store.
Read More