Posted on 05.22.13 by ScottC @ 11:07 pm
Comments on this: none yet.
Add your own.
Written by Warren Ellis
Performed by Reg E. Cathey
Published by Hachette Audio
NYPD detective John Tallow has just seen his partner of twenty years shot by a crazy naked man with a shotgun. Of course, Tallow responses in kind by shooting the crazy man dead. This would have been the incident where Tallow, burdened with years of the violence and brutality of New York, finally shuts down.
However, the naked madman with a shotgun blew a hole into an apartment. When checking to see if anyone is hurt, Tallow discovers an apartment covered in guns. All sorts of guns from flintlocks to Saturday Night Specials, all arranged like pixels in a digital picture. They seem to convey some sort of meaning or purpose but it may be beyond sanity. Even weirder, when a sampling of the guns is tested, all of them are connected to cold cases of unsolved homicides. In other words, Tallow has just reopened over 400 unsolved murder cases and the department is not happy. His "reward" for this discovery is to investigate who did all this. And why would be nice too. So Tallow has to deal with two rather odd CSUs, a department that wouldn't mind this whole mess sinking into the Hudson, and the killer who is very smart, very talented, and very pissed that someone fucked with his guns.
Categorized as: Audiobooks and Reviews
Comments: None
Posted on 12.10.02 by ScottC @ 8:55 pm
Comments on this: none yet.
Add your own.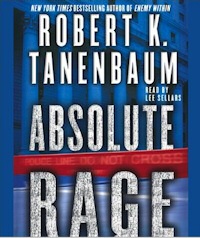 Written by: Robert K. Tanenbaum
Published by: Simon & Schuster Audio
Performed by: Lee Sellars
Marlene Ciampi was just interested in taking it easy and raising some guard dogs. Marlene's life had been filled with mystery, terror, and death when she was a Manhattan D.A. with her husband Butch Karp and even more so when she was a bodyguard. She has survived all sorts of crooks, the tangled web of City politics, and the hidden perils of sudden wealth--all while maintaining a decent percentage of her sanity. She just wants to relax with her uncompromising, very religious, language prodigy daughter Lucy, and her precocious twins Zic and Zac. She becomes friendly with a neighbor, Rose Wickham-Heeney, whose husband, Red, is fighting to clean up the mining union in his West Virginia town of McCullengsburg. When the fighting turns deadly and they are murdered, Marlene charges in to help out their two sons. Butch gets in the act when the governor of West Virginia makes him a special prosecutor to clean up an unholy trinity of a corrupt union, a greedy mining corporation, and a criminal clan of hillbillies. The whole family gets involved, but when the bullets start flying, can tragedy be far behind?
Categorized as: Audiobooks and Reviews
Comments: None
Posted on 10.11.02 by ScottC @ 6:27 pm
Comments on this: none yet.
Add your own.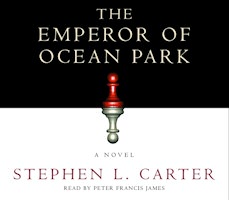 Written by: Stephen L. Carter
Narrated by: Peter Francis James
Published by: Random House Audio
The Garlands are members of the black upper class, a group that doesn't seek the limelight and are just as protective of their status and exclusivity as their white counterparts. They also have similar familial structures: a conservative ambitious father, well educated but resentful children, and their share of skeletons and tragedies. For the Garlands, one tragedy was the death of the youngest child, Abby, in an unsolved hit-and-run accident. The second is more public and more scandalous. The head of the family, Oliver Garland, a judge in the Federal Appeals Court, was nominated to the U.S. Supreme Court, the highest honor for a jurist. But his enemies pounced on him regarding his association with Jack Ziegler, a family friend, former CIA agent, and generally sleazy individual. He withdrew his nomination, went into private practice and became very bitter.
Categorized as: Audiobooks and Reviews
Comments: None
Posted on 09.19.02 by ScottC @ 9:14 pm
Comments on this: none yet.
Add your own.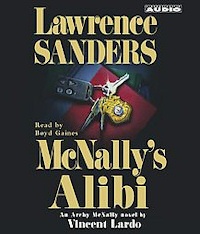 Written by: Vincent Lardo, based on characters by Lawrence Sanders
Published by: Simon & Schuster Audio
Performed by: Boyd Gaines
Florida is weird. I should know, I live there. Theories for this weirdness have ranged from the oppressive heat and humidity to our proximity to the Bermuda Triangle. And we have different flavors of weirdness as well: the Southern Fried oddballs of North Florida, the spicy Spanish loco-ness of Miami, and the rich eccentricities of Palm Beach. And Palm Beach is where McNally's Alibi happens to be set.
Palm Beach is an island enclave isolated by geography and money. Indulging themselves in pleasures that range from the innocuous to the kinky is its residents' main occupation. The townspeople live for scandal but work very hard to avoid it themselves. Helping them is Archibald "Archy" McNally, the jovial and urbane head of the Discreet Inquiries department of McNally and Son, Attorney at Law (Archy's father is the Attorney, he's the Son). Archy usually helps clients keep out of the gossip pages when they are involved in minor but embarrassing infractions of the law. But every once in a while, Archy has a case that involved major crimes, like extortion and murder.
[[ Review continues ]]
Categorized as: Audiobooks and Reviews
Comments: None
Posted on 08.28.02 by ScottC @ 7:59 pm
Comments on this: none yet.
Add your own.
Written by: Douglas Adams
Starring the Voices of: Simon Jones, Geoffrey McGiven, Mark Wing-Davey, Peter Jones
Published by: BBC Audio
Before it was the cult TV hit, before it became the five-book trilogy, before it became the all-encompassing meme that immersed itself into sci-fi fandom (Everybody knows what 42 is, right?), it was a radio series that aired on BBC Radio 4. Now the BBC has released a special collector's edition with all twelve episodes of the series, an audio documentary on the creation and production of the series, and a special interview with that hoopy frood himself, Douglas Adams.
First, we'll look at the series itself. Many of the classics are here: the Babel fish, Vogon poetry, Milliways: The Restaurant at the End of the Universe, and others. But what makes this show interesting is the material that differs from the radio version to the written one everyone's more familiar with. For example, it is Arthur Dent (Simon Jones), not Ford Prefect (McGiven), who convinces the bulldozer supervisor not to knock his house down for a few minutes. We are introduced to the Haggunenons, hyper-evolutionary beings that take their frustrations of being genetically inconsistent out on the galaxy in a military fashion. And we meet the ladies Lintilla and their investigations into the Shoe Event Horizon.
Categorized as: Audiobooks and Reviews
Comments: None