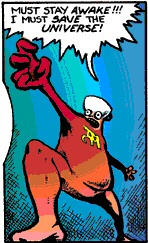 Ken sent over this Wired article which could prove to be the dawning of a new day. A new day, in fact, that we're not looking at through bloodshot eyes:
A nasal spray containing a naturally occurring brain hormone called orexin A reversed the effects of sleep deprivation in monkeys, allowing them to perform like well-rested monkeys on cognitive tests. The discovery's first application will probably be in treatment of the severe sleep disorder narcolepsy.
They call this a potential "sleep replacement" drug, which is good: because at this point anything would be better than what most of us replace sleep with. I'm speaking, of course, of aches, pains, bad reaction times, headaches, blurred vision, hallucinations…hell, the way some of us fall asleep at the drop of a hat, we're one step away from narcolepsy anyway. Read the entire article here.