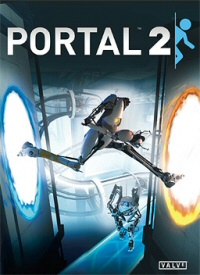 Developed & Published by: Valve
Rating: E10+
Platform: Xbox 360, PS3 and Mac/PC
Portal 2. Wow. Just wow. In a proof of concept, Valve shows that the innovative gameplay and story of the original Portal (originally released as part of a bundle) can carry itself as a standalone release. The sequel is an unblemished masterpiece that lives up to the hype and fully dispels the worries of fans. With a fantastic single player campaign and story, Portal 2 is by far one of my favorite games this year, if not of all time.
The game starts with the main character from the first installment, Chell, waking up in cryo-chamber 0 (disguised as a tacky motel room) deep in the bowels of the Aperture Science Testing Facility. After an extended rest, Chell is woken up by a robot named Wheatley. Chell finds that the facility has fallen apart after her climactic battle when the rogue AI GLaDOS crippled the complex. Chell and Wheatley then attempt to escape the dying Aperture Labs, inadvertently re-activating GLaDOS. From there, shit goes down, and Chell is forced to begin testing again. In the co-op campaign players control Atlas and P-Body: two robots created specifically for testing.