Posted on 11.15.09 by Widge @ 4:24 pm
Comments on this: none yet.
Add your own.
There's a lot of stuff that comes out each week. We're here to run it down for you and help you decide what's worth buying. Because somebody had to, right?
Adult Swim in a Box. At first glance, this set seems like a total no-brainer. Season sets from six Adult Swim shows plus a bonus disc of never-before-seen pilots? Brilliant. Then on second glance, you see that we're not talking a true Adult Swim primer, i.e. first season sets from everybody. We're talking the second seasons of Sealab 2021 and Robot Chicken, the third season of Space Ghost: Coast to Coast, and the second volume of Aqua Teen Hunger Force. The only first seasons in here are Metalocalypse and Moral Orel. So what was the perfect gift and primer for a sick individual you know could use some Adult Swim is now...suspect. It seems like they're just trying to unload some inventory, frankly. But the Adult Swim hardcore...should they buy it? Since, after all, they're the ones that will be drawn the most to the pilots on here: The Best of Totally For Teens, Cheyenne Cinnamon and the Fantabulous Unicorn of Sugar Town Candy Fudge, Korgoth of Barbaria, Perfect Hair Forever and Evan Dorkin's Welcome to Eltingville. And that coupled with the price point--it's $47.99 on Amazon as I type this--it becomes a two-pronged conditional recommendation. If you don't own the sets involved and want them, you'd be crazy not to snag this, because once you've bought two of the sets individually, you've paid for the Box. And if you're an Adult Swim fanatic and want the pilots on DVD, well, this is where you can find them. Click here to buy it from Amazon.
Categorized as: Headsup
Comments: None
Posted on 11.14.09 by Widge @ 4:04 am
Comments on this: just one.
Add your own.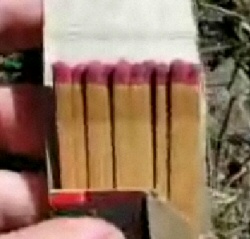 You, like me, have probably spent an undue amount of time wondering to yourself: Is everything exploding? Or is it just me? And by "just me," I mean "just you under the impression that everything is exploding" since, you know, you'd probably notice if you yourself were exploding. Unless you were just as quickly imploding so that you reached a state of uneasy equilibrium.
Where was I? Oh yes. You have wondered this, but you don't go on hunches. You want evidence. Jason Nelson, purveyor of games, art and insanity, is here to give you what you have always sought. He does this in the form of the dada game "Evidence of Everything Exploding." You run over pages of text, blocked by your own preconceived notions of meaning (i.e. lines) and try to reach the reach/reach. Upon doing so, you are rewarded with a running exposé of how the Illuminati have been secretly running the world by means of matchbooks--the real reason smoking has been banned most places, to sap them of their ability to pass encoded messages. Or...something. Regardless, it's maniacal brilliance. Or what would have happened if William S. Burroughs and Salvador Dali had been in charge of game design for Konami.
Find Jason Nelson and his gallery of surreal nonsense here. And check out the rest of his site. The opening page is like a horror movie about grass scored by Bernard Herrmann being assaulted by a midi machine.
(more...)
Categorized as: Headsup
Comments: 1 Comment
Posted on 11.09.09 by Widge @ 10:54 pm
Comments on this: none yet.
Add your own.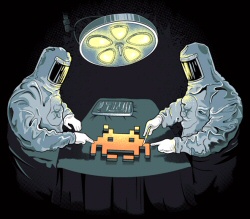 So this shirt sold Doc on its existence within seconds. And for good reason: we've finally gotten one of those cursed invaders on the operating table. Now we're not ones to just cut open anything to see how it ticks--we're much more likely to have a barbeque for anything that tastes good--but we need to see, at last, how these things work. How their biology works, how they're able to whittle away at our shields, and most importantly how there seems to be neverending armies of the damned things, always inexorably headed towards Earth...and our doom.
You can get your copy of it here. And of course, Threadless introduced a bunch of tees as always...but this one truly cranked our collective tractor.
(more...)
Categorized as: Headsup
Comments: None
Posted on 11.06.09 by Widge @ 12:24 am
Comments on this: none yet.
Add your own.
Let me admit something to you: I'm not what you would call a full-on Star Wars fan. Oh sure, I enjoyed the hell out of the first trilogy, warts and all. And like most sane people among you, I sobbed--like a little girl whose favorite hamster has just been ignited by a spray of flaming WD-40--when I realized what the prequel trilogy had devolved the series into. But I never really got into the various other bits of media--you know, like the books or comics. And I'm sure there's a fandom term amongst Star Wars geeks for basic fans like myself.
So it's not because I dig Empire Strikes Back the most (like most sane people) that I find myself terribly excited about the Tauntaun Sleeping Bag from ThinkGeek. Hell, as nifty as I think they are, I'm not even geeked at the prospect of owning one. Instead, I'm thrilled because I like the notion of living in a world where something as sick as a sleeping bag based on a scene in which a character cut open and slept inside the carcass of an animal--a sleeping bag originally conceived as a joke, mind you--can become real and be sold.
We have to take joy in the little things. You can pre-order your own twisted sleeping bag here. They appear to be in stock starting 11/29.
Categorized as: Headsup
Comments: None
Posted on 10.23.09 by ScottC @ 5:57 pm
Comments on this: just one.
Add your own.
Once again, it's the most scarifying time of the year. Women is getting ready to dress up like a sexy [insert occupation here], Widge is busy with the 32 Days of Halloween, and Black Phoenix Alchemy Lab has released their Halloweenie perfume collection.
Black Phoenix has a central theme for some of their scents. Last year, it was scents inspired by "The Legend of Sleepy Hollow". This year, it is time for the vampire to receive some attention. First off, a bit of naughtiness with the scents "Bite Me" and "Suck It." "Bite Me" is based on the French dessert croquembouche with its layers of cream pastry draped in almond silk and ribbons of caramel. This scent is particularly amusing since croquembouche literally means "crunch in the mouth." "Suck It" is pure black cherry brandy, sugary but with a deeper and sharper tang that is as rich as the blood in your veins. You can almost feel the alcohol roiling around in your mouth, warning your body, loosening your inhibitions.
But it is the vampires of literature that Black Phoenix is truly honoring this Halloween season. I'm talking about actual literature, not that hyper-Byronic, misogynistic, pseudo-Harlequin romance crap that Stephenie Meyers poops out.
Categorized as: Headsup
Comments: 1 Comment
Posted on 10.19.09 by Widge @ 2:38 pm
Comments on this: none yet.
Add your own.
Please hear the rest of this post in your head in the style of the following trailer. Thank you.
Direct link for the feedreaders.
Where were we? Oh yes. Another Threadless sale. We tell you about these things because, frankly, we dig the hell out of Threadless and because they--especially on sale--make for great gifts. Especially in their kid sizes.
[[ More this way... ]]
Categorized as: Headsup
Comments: None
Posted on 10.16.09 by Widge @ 4:13 am
Comments on this: none yet.
Add your own.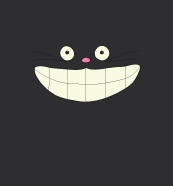 Threadless has created many cool shirts in their time, especially recently when they started throwing UV ink and glow in the dark ink and all kinds of "special effects" into the mix. Now that they've created this latest Alice in Wonderland-inspired shirt, I think they've outdone themselves when it comes to badass shirts for kids. I mean, it's cool for adults--but what kid wouldn't want a disappearing cat that also glows in the dark? I mean...seriously.
Outside in direct sunlight the cat's body is visible, inside the cat's body goes away--and in the dark, the teeth and eyes glow.
Sure, their most recent update includes an awesome black and white apocalyptic shirt, but this one takes the cake. To snag a Cheshire shirt for yourself, click here.
P.S. I do admit that the picture we chose makes it look like Miyazaki's Catbus is about to charge out of a tunnel and run you over. Please don't let that stop you from enjoying the shirt.
(more...)
Categorized as: Headsup
Comments: None
Posted on 10.13.09 by ScottC @ 4:19 pm
Comments on this: just one.
Add your own.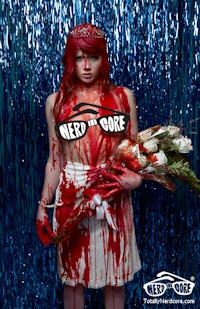 Last year, I wrote up a Ministry Quickie on the Nerdcore 2009 calendar. A pin-up calendar for nerds, there were twelve beautiful models in sci-fi environments showing us their "hardware," if you know what I mean. So I was curious what Nerdcore had in mind for 2010.
This year's theme is "horror" and they have plenty of Scream Queens on hand. Of course, these Scream Queens will have you screaming. And moaning. And grunting. You get less clothed versions of classic scenes from Psycho, Frankenstein, and Army of Darkness among others. As you can tell from this naughty interpretation of Carrie, the only thing you have to fear is your boss yelling at you for having naked women on your wall.
There is more to this calendar than naked women. I know, most of you are perfectly happy with the naked women, but just in case you're exhausted from "admiring" the models, there are other features. Along with the usual notations for holidays like Christmas and Arbor Day, you also get notices of dates important to geeks. Dates for major convention like San-Diego Comic Con and DragonCon, birthdays of important creative people in the genre, and anniversaries for the release of your favorite cult classic. For only $25.00, the Nerdcore calendar can make your 2010 much sexier.
(more...)
Categorized as: Headsup
Comments: 1 Comment
Posted on 10.09.09 by ScottC @ 5:30 pm
Comments on this: just one.
Add your own.
The Bureau of Paranormal Research and Defense has been protecting America and the world from arcane and occult threats for sixty-five years. Wherever it's savage werewolves, cryptozoological horrors, or power-mad occultists, the B.P.R.D. has been there bumping back decisively against those who bump in the night. While the Bureau has been successful in its efforts, it has been looking into improving their public image. Having a reformed demon with a stone right hand as your top agent would even give Don Draper a run for his money. With Moneygeddon™ hurting its regular funding sources, The B.P.R.D. has been looking into alternate revenue streams. Enter Black Phoenix Alchemy Lab, the premiere perfume firm. They have a well known reputation for its fragrances inspired by both far-flung flights of fancy and dark descents of decadence. Their artisans work just as well with ancient myths as well as modern storytelling.
A collaboration between these two unusual organizations was truly fated to occur. So following in the footsteps of Lewis Carroll, H. P. Lovecraft, and Neil Gaiman, the B.P.R.D. is now the subject of a B.P.A.L. perfume collection.
Categorized as: Headsup
Comments: 1 Comment